Launch of the Tourism Bhutan Portal & Statistics Dashboard and Domestic Tourist Registration System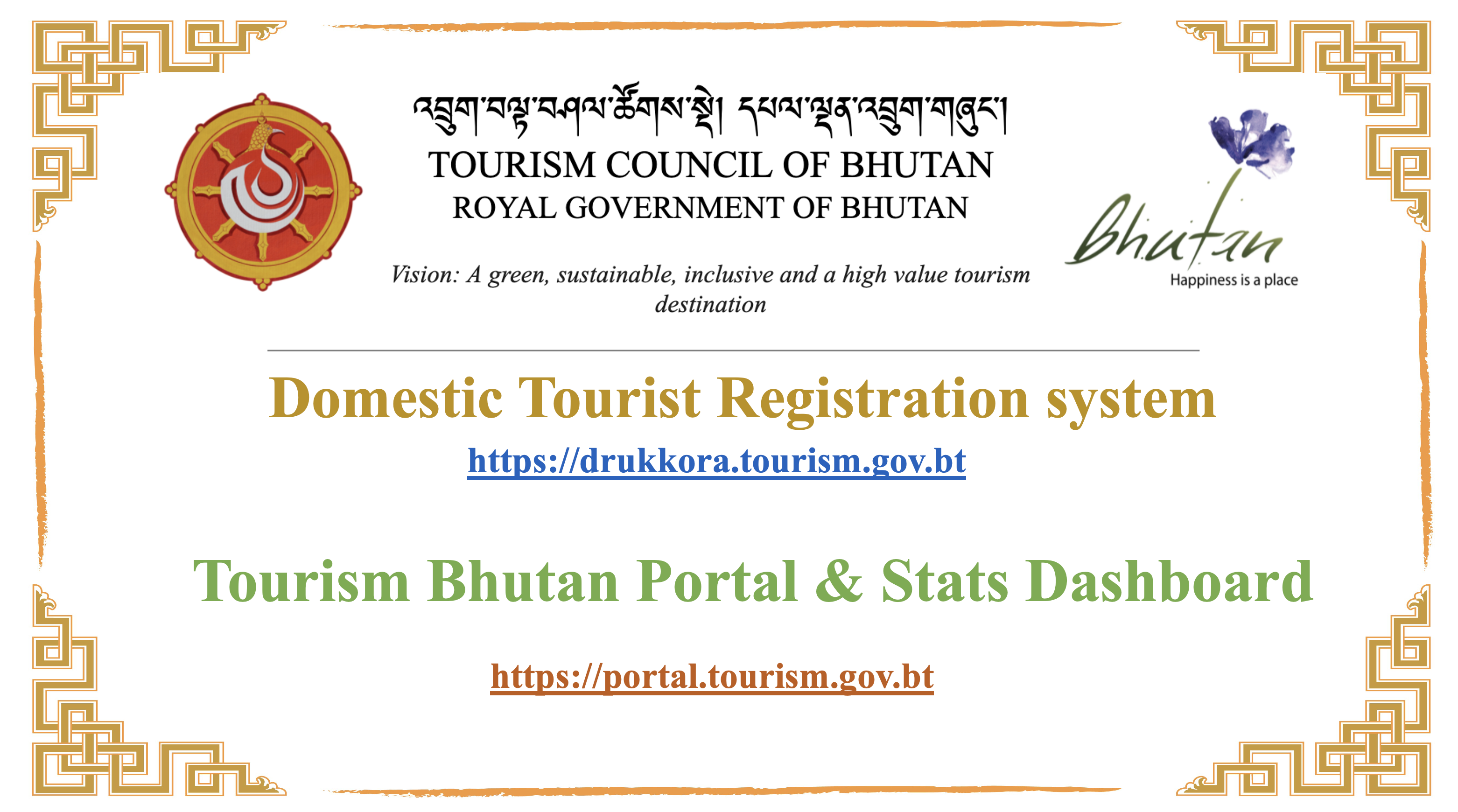 The Tourism Council of Bhutan launched two additional systems on 12th August to improve the tourism database management system and public service delivery. The portal will be a one-stop source of information for all kinds of tourism related contents or subjects that will be useful to everyone. It will have data and resources that will be useful to the industry players and also to general public who aspires to learn about the industry.
A. Tourism Bhutan Portal and Statistics Dashboard
The Tourism Bhutan Portal and Statistics Dashboard is an important initiative of the Tourism Council of Bhutan to provide timely and relevant information on all aspects of tourism in the country. It was developed aiming at enhancing the tourism service delivery through a single integrated system efficiently.
The Tourism Bhutan Portal and Statistics Dashboard will have the following feature;
This will contain complete database of the tourism industry in Bhutan that includes tourist statistics, revenue contribution, employment and tourism enterprise data that is accessible by everyone.
Real-time tourist arrival Statistics and Information
Such real-time statistics and information, accessible immediately will guide the industry players in making an informed decision when it comes to marketing or targeting their promotional activities.
It includes more than twenty-five tourism related services provided by TCB. With implementation of this system, the Turn Around Time (TAT) for providing the tourism related services will be significantly reduced which in turn can potentially improve the efficiency of the industry.
The portal also includes grievance redressal platform. Efficient management of grievance is very critical for tourism Brand Bhutan . TCB do not have a formal grievance redressal platform and this is aimed towards establishing a proper grievance redressal mechanism.
In order to access the Portal, please visit the link - https://portal.tourism.gov.bt/
B. Domestic Tourist Registration System (DTRS)
The Domestic Tourist Management System (DTRS) is launched to facilitate domestic tourism activities in the identified pilgrimage sites and trekking routes. It is also aimed for quick contact tracing of the visitor in the event of COVID-19 outbreak in a particular site or location.
TCB requires every domestic travel coordinator to register their trips via this system to maintain a proper record of the movement. The registration process is as follows:
The tour package providers/promoters such as tour operators, hoteliers, guides, trekking cooks or any individuals can submit their application to obtain the government approval prior to their trip.
It has a provision to process the Park Permit of DoFPS, MoAF online.
In order to provide an easy and simple registration process, the system is also being integrated with CPMS of RBP for inter-Dzongkhag vehicle movement, Department of Civil Registration & Census for citizen information, Road Safety & Transport Authority for vehicle and driver information.
You have to verify your identity before registration to avoid false data.
You can also track your application status.
Upon the approval of your registration you will be notified with SMS.
For tour organizer whose names are not registered under Druk Kora, kindly contact the system admin for registration.
For any enquires please contact the system admin at 17662142/17755966/17731662.
The registration system can be accessed through https://drukkora.tourism.gov.bt/
Kindly click here to view SOP for trekking and pilgrimage tours under the new normal.