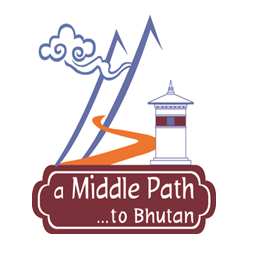 Kuzu Zangpo la !

a Middle Path to Bhutan warmly welcomes you to visit Bhutan, the Thunder Dragon Kingdom.

Hidden deep in the Himalayas, Bhutan is a small and peaceful Kingdom, where friendly and deeply spiritual people and nature co-exist in a pristine setting, where ancient traditions remain an integral part of the colourful living culture, and where the philosophy of Gross National Happiness guides the country towards holistic development for peoples' happiness and well-being. Veritable proof that 'Happiness is a Place'.

There is much to do and experience in Bhutan ranging from cultural, spiritual, and adventure activities. a Middle Path to Bhutan offers its guests quality, personalized, and comprehensive tour services, delivered by a responsible member of the tourism community through its caring and experienced staff. We have catered to discerning visitors across every age group from all over the world. Testimony to our services is the large number of repeat visitors who continue to visit Bhutan through us, and with whom we have developed lasting friendships.

We take pride in being Bhutanese, and enjoy the opportunity to present to our guests the many unique, authentic, and interesting facets of the Bhutanese and their way of life.

By choosing a Middle Path to Bhutan, you can be assured of an enjoyable holiday in Bhutan that will leave a memorable and positive impression on your life.

Discover with us the Treasures of the Last Himalayan Buddhist Kingdom!

Tashi Delek !