Bhutan Peldey Comfort Tours & Travels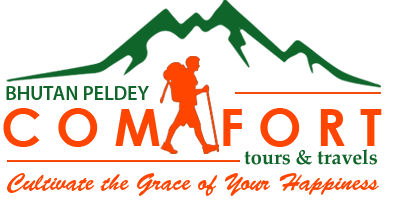 Cultivate the Grace of Your Happiness with Bhutan Peldey Comfort Tours and Travels

We are a legitimate tour company in Bhutan to whom you can place your heart and seek the solace of comfort to experience the never experienced happiness of your life. Certified by the Tourism Council of Bhutan and registered to the Association of Bhutan Tour Operators, we maintain the highest standards of our services and ensure the wellbeing of our customers at all times.

Experiencing happiness in Bhutan can be your expectation but ensuring to make you Cultivate the Grace of your happiness is our priority. Take more than what you expected and enlighten your life forever with the meaningful experiences of your visit to this serenely pristine Himalayan abode- shy to the materialistic world.

Experience the differences of our values and concepts in making your travel comfortably enriching. That is how Bhutan Peldey Comfort Travels and Tours will take you through the journey of happiness and comfort beyond sky and land.

Our services will be positioned meaningfully – tailor made and personalized to your needs, and allow every individuals appreciate and fulfill their dreams and aspirations.

We value your time, hopes & dreams and money!