Bhutan TravelRouters Tours and Treks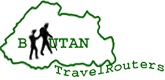 Bhutan TravelRouters, is one of the travel agency in Bhutan, registered with the Tourism Council of Bhutan and is licensed by Ministery of Economic Afairs. Bhutan Travel Routers provides travel and adventure packages to individuals or to the group through out Bhutan. Services and products provided by Bhutan Travel Routers include cultural tours, festival tours, trekkings, honeymoon tours, etc according to clients specifications, travel consultation.
Our team is fully committed for our client, and we do respect our valued clients where by we arrange the trips according to our clients suggestions and convenience. This will be one of the advantage of choosing Bhutan TravelRouters as your host agent for your vacation as we have flexibility to change according to your requirement. And our team also focuses more on the quality of service that we provide, to our clients.