Druk Gi Gyem Tours and Trek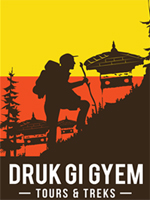 At Druk Gi Gyem, our goal is to make your trip to Bhutan a unique experience with much focus on the authentic values of local life and culture with social and environmental responsibility, satisfying the needs of our clients and always exceeding their expectations. So if you are looking for really authentic experiences, you have come to the right place at Druk Gi Gyem Tours & Treks.

We're really happy to offer specially designed Bhutan travel packages for our valued customers. Regardless of whether you're touring individually, with your friends or family members we've special tour packages to suit every budget and preferences. We've a wide range of tour packages ready for you such as Bhutan cultural tour, Bird watching tours in Bhutan, Eastern Bhutan tours, Bhutan trekking tours, Spiritual tours, Bhutan festival tours and much more.

Our tours offer you the very best that the region has to offer in term of accommodations, sightseeing and enriched cultural experiences. At the same time, you will be guaranteed highest quality services and value for your money.