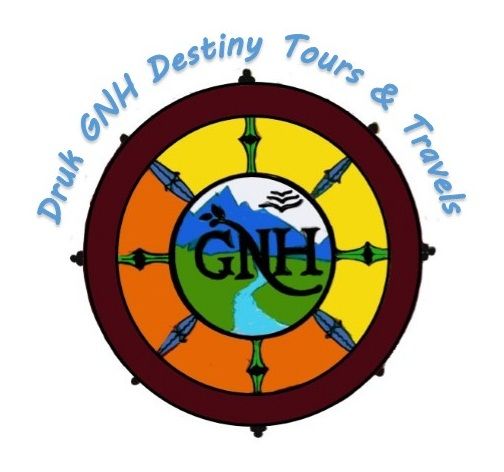 Druk GNH Destiny Tours &Travels envisions in enfolding a vision-packed philosophy of Gross National Happiness (also known by the acronym: GNH) through a holistic and sustainable approach to development, which balances material and non-material well-being of our nation.

GNH Wheel: GNH wheel, in particular, signifies our unflagging and enterprising hospitality offer of our service to the service of Tourism. With safe and caring services, it aspires to the tourists with quick and efficient visit to the places.
Spoke: Its spoke symbolizes our open service which would be legit to all irrespective of gender, sex, race and culture etc.
Colours: Yellow, Orange and White: They stand for fulfilling the dreams and wishes of our Tsa-Wa-Sum (King, country and people) along our enticing odyssey towards our vision.
Mountains and Valleys: Its wheel adorned with a mountainous landscape embodies our country's pristine natural beauty with flourishing peace and prosperity with firm security.
Birds: Multi-coloured birds represent the trust, relationship, confidence, honesty, integrity and respect for the Tsa-Wa-Sum.
River: Signifies the effectiveness of our service that guarantees to quench the thirst of the tourists.