National Adventure Tour and Trek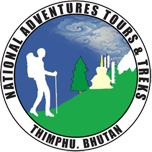 National Adventures Tour & Trek (NATT) is a complete destination management company, in Thimphu; the national capital of Bhutan. We are offering personalized services to travelers looking for life changing experiences in Bhutan, Nepal and Tibet. We have a young, energetic and enthusiastic team on board to make each and every trip memorable for our valuable guests. Our team of experienced and friendly tour experts makes you feel comfortable in dealing with us and help you in planning your holidays.

Our travel products are full of incredible travel experiences. The widest range of our tailor-made and customized tour packages gives our customers an opportunity to find their dream vacations across Bhutan. Our tour packages are designed in such way that makes perfect combinations of culture, festival, trekking, luxury, adventure and more of it, the friendly travel professionals committed to serve you with a big smile.

Travel makes one modest and realizes what a tiny place you occupy in this world. A believe in "A long journey starts with a single step" encouraged us to take the step towards this wonderful journey to explore & represent the beautiful world to the travel lovers. We feel ourselves proud while showcasing this amazing land of "Incredible Bhutan". Visit Bhutan … It's more fantastic than any dream you see with the close eyes.


MISSION & GOAL
Service is the first, flexibility being a must, and value being the best. Taking this idea as our vision and target, we always set goals for offering the service of the highest quality to travelers from all over the world; making ours the best known brand of inbound and outbound operator in a healthy and well-ordered tourist environment; providing the perfect products with a top class international service.

EXPERTISE
We have first-hand knowledge of the destinations we sell. Travel is our passion.

SERVICE
We are proud to have a high number of loyal customers and 98% of our customers consider our service to be excellent.

TRUST
We are a privately owned family company with offices in the heart of Bhutan.

VALUE
We constantly negotiate exceptional hotel deals and exclusives for our customers.