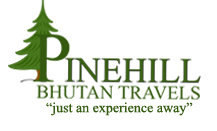 Pinehill Bhutan Travels is a tour operator registered with the Tourism Council of Bhutan and Association of Bhutanese Tour Operators. The company is headquartered in Thimphu, capital of Bhutan. Our team strives to adopt the best practices in travel business which enables our customers the most memorable holiday experience. We believe in long term relationship with our partners and clients, and therefore, we work professionally to address needs and priorities of our clients. We strive to position ourselves as a premier travel company in Bhutan which will provide higher value for money.

Pinehill Bhutan Travels offers individual and group travel for regional and international travelers. Our services consist of accommodation, comfortable vehicles for transportation, healthy meals, professionally trained tour/travel guides and other services as per requirement. Travelers will have options to choose from different travel products. Key highlights of Pinehill Bhutan Travels are as follows:

Cultural tours
Festival tours
Special tours like river rafting, cycling and bird watching
Trekking
Custom made travel products as per demand
We will endeavor to provide best insights into the rich culture and heritage of Bhutan. Travelers will enjoy magnificent natural landscapes protected by strict environmental conservation policies of the Kingdom of Bhutan. One will understand how and why Bhutan has demonstrated herself to be a global leader in environmental conservation. Additionally, you will explore how our socio-economic growth driven by the concept of Gross National Happiness enables us to fulfill our commitment of being a Carbon Neutral country.

Our vision

Become a leading and trusted travel brand providing high quality services and positively contribute to the sustainable socio-economic development of Bhutan.

Our Mission

To foster a culture of cooperation with our partners and customers through consistent leadership and team work while progressively achieving growth.