Semthuen Tourism And Travel Agent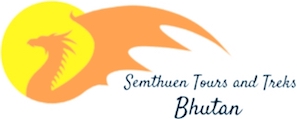 Semthuen tours and travels were founded for the sincere love for Bhutan, and the desire to share the magnificent place with others across the globe. Our motive is to show the people the magnificent Bhutan we fell in love with.Semthuen tours and travels consist of two partners coming up with an idea to create tour experiences that showcase Bhutan's intentional juxtaposition of modern and traditional, of expected and unexpected.
Not only showcasingthe iconic temples in the Himalayan cliffs to out-of-the-way sights only the locals know about, we promise that we our guest experience every parts of Bhutan. And we're committed to sustainable tourism that boosts local economies, preserves land and culture, and keeps Bhutan thriving for decades to come.
Karma Tshering "Karma", as his friends callshim has an unmatched passion and capacity to execute any itinerary even the most seasoned traveler could ever dream up, and an uncompromising love for his native Kingdom.
TsheringWangyel: an important person for Semthuen, who have been driving with tourist guest for more than 3 years and providing services to them in a way that he makes every guest happy.