Tashi Dendupling Tours and Travels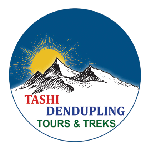 Bhutan is a very small country which is isolated for many years and came into the modern era in early 1960s. In this small and mystic country Tashi Dendupling Tours & Treks was established with certified by Tourism Council of Bhutan and other relevant government Agencies.

Tashi Dendupling Tours & Treks Is a well-established travel company offering tourism services. We serve our best to all the clients and make your travel to Bhutan most memorable and unforgettable experience, with the help of its well trained and highly professional team of experienced staff and its access to quality facilities.